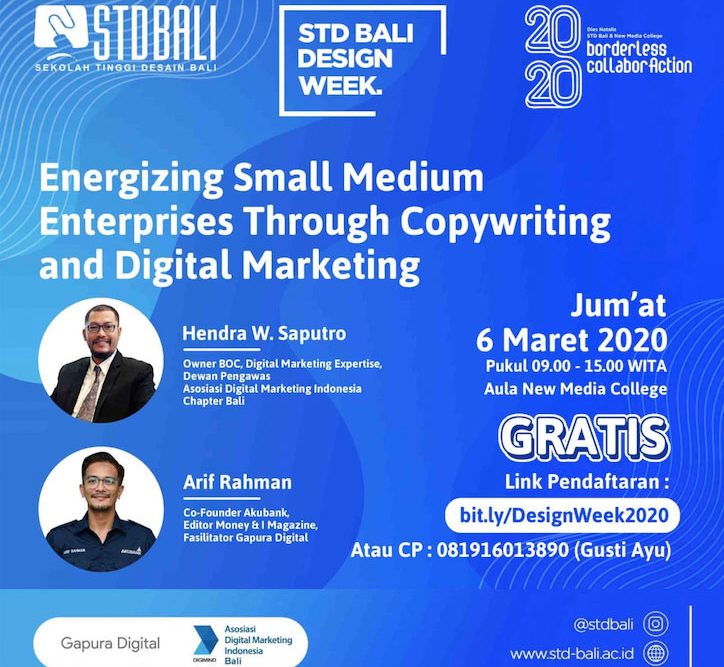 Seminar Digital Marketing di STD Bali Design Week 2020
Sekolah Tinggi Desain (STD) Bali mengadakan acara STD Bali Design Week 2020. Rangkaian acaranya ada seminar digital marketing dan copywriting serta konsultasi gratis logo dan branding, desain kemasan, pembuatan izin usaha UMKM gratis yang bekerjasama dengan PLUT KUMKM Bali.
Salah satu pembicara seminar adalah CEO BOC Indonesia, Hendra W Saputro yang akan bawakan tema The Power Of Digital Marketing. Berikut pengumuman untuk acara STD Bali Design Week 2020: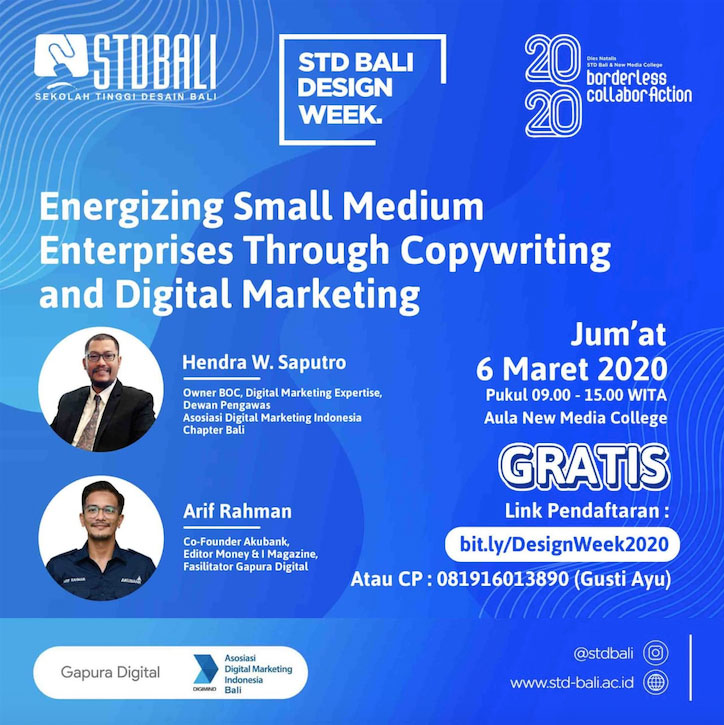 Punya usaha, namun masih belum menemukan formula yang tepat untuk mempromosikannya? Setiap hari main sosial media, sekedar posting ternyata tidak ada efeknya? Sepertinya ada yang salah dari cara bermainnya Tapi salahnya sebelah mana ya?
Daripada bingung, yuk datang ke STD BALI DESIGN WEEK!
Energizing Small Medium Enterprises Though Copywriting and Digital Marketing
.
Bersama dengan narasumber yang inspiratif
.
-🔥 HENDRA W. SAPUTRO 🔥
(Owner BOC, Digital Marketing Expertise, Dewan Pengawas Asosiasi Digital Marketing Indonesia Chapter Bali)
-🔥 ARIF RAHMAN 🔥
(Co-Founder Akubank, Editor Money & I Magazine, Fasilitator Gapura Digital)
.
📅 Jumat, 6 Maret 2020
⏰ 09.00-15.00 WITA
📍 Aula New Media College
Kita sama-sama cari tahu, cara terbaik untuk memajukan usaha bersama-sama.
FREE!
FREE!
FREE!
sekalian datang untuk konsultasi di 3 booth yang sangat dibutuhkan masa kini, dijamin GRATIS ✨
Yuk daftar melalui LINK https://bit.ly/DesignWeek2020 😁😁 atau hubungi CP yang tertera yaa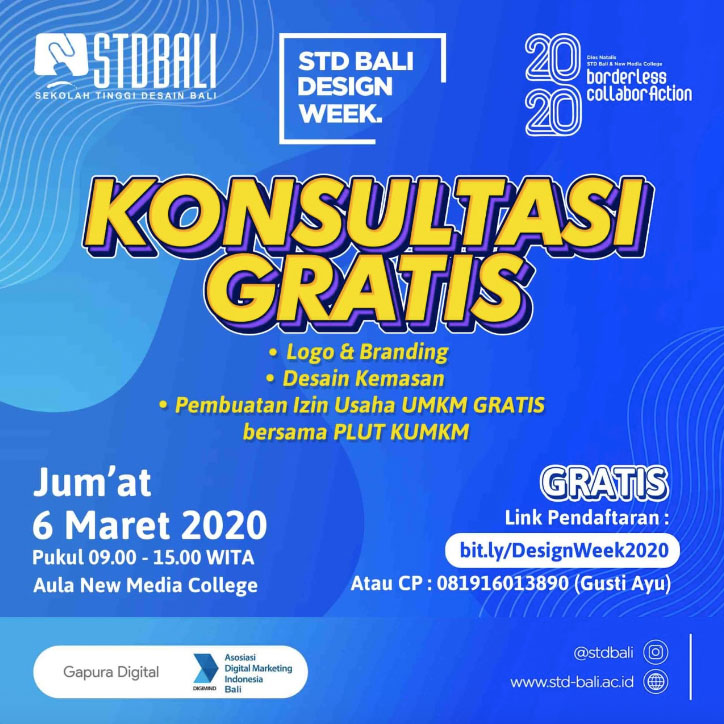 stdbali #kuliahdesain #kampusdesain #dkv #interior #fashion #desain #desainer #desaininterior #desainlogo #desainfashion #style #art #design #interiordesign #fashiondesign #graphic #graphicdesign #campus #campuslife #bisnismultimedia #digitalmarketing #bisnis #multimedia #workshop #designweek #copywriting #digitalmarketing